Bahman Panahi (born September 1, 1967 in Behshahr) is a contemporary Franco-Iranian visual artist, calligrapher, musician, and scholar based in Paris, France since 2002.
"Musicalligraphy", the connections between calligraphy and music is a concept created by Bahman Panahi.
Combining an eastern and western regard, his inspiration is derived from the Persian millenary poetic heritage.
Panahi's contemporary calligraphic work has explored the themes "Musicalligraphy", "Sun", "Huwa", "Two", or "Carpet of Letters". This later series is inspired by the Persian carpets and is filled with details, shapes and strokes in multiple colors and directions.
Panahi has participated in calligraphic and art exhibitions, festivals, lectures, and music concerts in four continents. He has worked with Harvard University and Northeastern University, and currently teaches calligraphy in different institutions in Paris.
Early life
Bahman Panahi was born in Iran in 1967. He was influenced by Persian culture and artistic traditions growing up and developed an interest in calligraphy and music from an early age.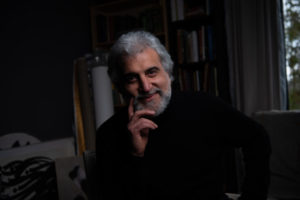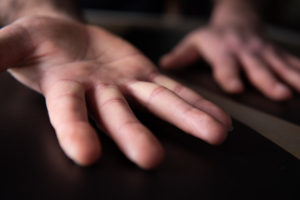 Career 
Bahman Panahi graduated from the "Institute of Calligraphers of Iran" (Anjoman Khoshnevisan Iran) where he studied under calligraphers Gholam Hossein Amirkhani, Abdollah Foradi and Yadollah Kaboli Khansari. Panahi also learned to play the Tar (string instrument) and Setar and deepened his musical knowledge under Houshang Zarif, Mohammad-Reza Lotfi and Ataollah Zahed Shirazi.
Panahi continued his studies at the École des Beaux-Arts in Valenciennes, France, and then at Sorbonne University in Paris, France, working towards a Ph.D. in visual arts and musicology. The subject of his ongoing doctoral research is on the musicality of lines and points.
Since 1995 Panahi has held numerous solo and collective exhibitions, as well as concerts, in Asia, Africa, Europe and North America.
In 2015 Panahi published his book "Le jardin des lettres de Rûmî", presenting a trilingual selection of illustrated poems. From 2018 he has been co-authoring a deluxe manuscript limited edition on a selection of poems by Hafez, published by Rare Books in Saint Petersburg, Russia.
A joint virtual exhibition of calligraphy by Iranian calligrapher Bahman Panahi and the Chinese calligrapher of Islamic scripts, Noor Deen Mi Guangjiang, opened at the Iranian National Commission for UNESCO in 2020.
ARTWORK
COLLECTION HIGHLIGHTS
Address
10-11 Grosvenor Place, Belgravia, London, SW1X 7HH